Firstly apologies, I've not been here for a looong time. I have no excuse. I mean it's not as if I've been locked in the house (slightly dramatic!) since March.
So how are we all doing? Has Covid treated you well? I hope you've all managed to avoid it with the old Hands, Face, Space malarkey and singing birthday greetings to yourself as you lather ferociously…twice.
I have a few questions about it all. answers on a postcard please.
Does anyone know the actual guy who ate the bat in Wuhan cos I'd like a word with him?
Did the civil servant who came up with the slogan "Hands, Space, Face" win a prize in the suggestion scheme for that?
Why are there no cases reported in North Korea or Samoa? What have they got that we haven't?
Where does all the money come from that has magically appeared in aid payments when usually we are being told the country is in debt? Why couldn't Boris just have paid off the debt with this magic pot of dosh?
Anyway, enough with the politics. I genuinely hope you've been untouched by the virus and your physical and mental health is intact. I remember Corona the first time round. Back then it came in 10 flavours and was delivered in a van by the pop man. Nowadays, it's 1 flavour, free of charge but not quite as pleasant.
I've worked from home since March, cancelled numerous holidays and made more cakes than Mary Berry on an acid trip. I've batch cooked, tiled the porch, decorated bits of the house, celebrated VE day with the neighbours (SD of course) and put on weight at a scary pace.
We did manage to cram in a few days in North Wales (should have been Barci but Spain wouldn't let us in). It was lovely to be fair. Portmeirion is my new happy place. Everything was beginning to close though and panic buying spread past Snowdonia…no pasta in sight.
I've queued British-styly to get into the supermarkets to be one the many that walked down the toilet roll aisle tutting furiously whilst scanning the empty shelves. The only things left were Tena for Men, super absorbent, and the really expensive wet toilet wipes that I refuse to pay £3.00 for a packet of 15. I love my arse but I was prepared to make do with the Sun newspaper like everyone else. It's all it's good for to be fair!
As you know I do like to stockpile for a snowy day and even a Brexit negotiation and I had already got supplies in for the first lock-down. Needless to say we ate a lot of pasta, which pissed my blue one off big time as he hates the stuff. Not even the Farfalle could tempt him! He's a meat and potato kind of guy and nothing will change that, not even cute pasta bows.
I have started to fill my shelves again as we are getting close to winter and another Brexit conundrum. Come January 1st, there could be no pasta, Italian herbs or tomato puree anywhere in Britain because Boris hasn't agreed with Italy that they can send in the goods yet. We'll all have to eat British…you know…beef, potatoes, cabbages, Hovis, chicken tikka massala with half and half, kebab and chips (no salad) etc.
Any way I digress. I promised myself I would be the one that went for a walk every day for my hour's release from prison. I did start but it got a bit silly avoiding people coming in your direction. Do you find you really over emphasise it and end up walking down the middle of the road, in an attempt to leave a 2 meter gap between you and them? I ended up using my satellite navigational system ("sat nav" to you young and trendies out there!) to plan an alternative route each time someone approached me!
I've tried to find a past time and the only thing I could do with any element of success was painting by numbers! I'm not artistically skilled ok! I'm not knocking it though, I did create an impressive lion which is now hanging in the man cave! Just don't look to close as I can't promise I stayed in the lines.
That's something else I did in lock-down. Well I didn't do it, hubby did it actually. He made his man cave. The sad thing is it has the ironing board and the chest freezer in it…oh and my artwork! He's not too happy…bless him!
What else have I done? I sorted through my wardrobe. That was a massive task but so worth it. Then I refilled it with new dresses, none of which I've worn as I'm working from home and not allowed out much socially thanks to "the virus".
I've binge watched numerous TV series, that passed a fair few hours. In the end we used to make a game out of fast forwarding through the adverts and the winner was the one who hit play at exactly the right moment. It's amazing what you will resort to in the name of entertainment.
When lock-down was announced I got all maternal and old fashioned and got all the board games out, dusted them off and placed them provocatively in the living room. No one even looked at them so that was the end of that. Who doesn't love a bit of Ludo!
I did make a vertical chess board. I've always wanted to have the kind of house where there is a drop dead expensively gorgeous chess board out on the coffee table but it never happened. One because I have kids and two because I don't have a coffee table. So I thought I'd make one, give me something to do and all that.
It turned out really well but there is a problem. I'm the only one in the house that plays (badly). When I start a game, I take my turn, leave it 3 days so I forgot what my thinking was behind my move, then make my next move for the opponent! It works I promise, because being a woman of a certain age (read menopausal) I forget everything. The only problem is each game lasts about 2 months.
I'm on the verge of asking the postman if he plays then he can take his turn each morning but he might think that's a bit odd.
Finally I think I have used up the entire populations' allowance of data on my phone as FB has been a blessing during this time. I mean where else can you go for all the facts about corona, spouted out by "experts" who analyse everything for you and tell you what you should be doing. I jest….it has provided hours of entertainment though, allowed me to share banal and slightly humerous pics and let me play Words with Friends (other games are available). Hubby is happy too as Candy Crush is still going too…he's on level 3 trillion now. As you can imagine, our evenings are filled with never ending conversation 🙂
Anyway I think the best thing about lock-down 2020 has been learning that my pink one is gonna be a mum. Due in February the child is going to be an Aquarius like his nan (me!) so we're gonna get on just fine. I'm really hoping that her partner can go in with her to the delivery, otherwise who else is she going to swear, declare she hates and promise to leave afterwards! I remember my labour vividly and my poor hubby got it in the neck and I swear my pink one is wayyyy more feisty than me! I'm praying her nesting instinct kicks in soon too as she's a messy bugger though! Heaven help her afterwards!
Shes at the stage where she's buying all the bits, folding them nicely and arranging them in little cute baskets. I told her it won't last and once the bubba has arrived, she'll be lucky too find a vest without leftover milk dribble and poo stains, that no amount of Fairy Non-Biological can shift. And they certainly won't be folded nicely in the baskets (Kondo style) once she's had the baby, no sleep for 4 days and has lived on toast and cold coffee, broken up by the odd meal made for her by a visiting family member/friend!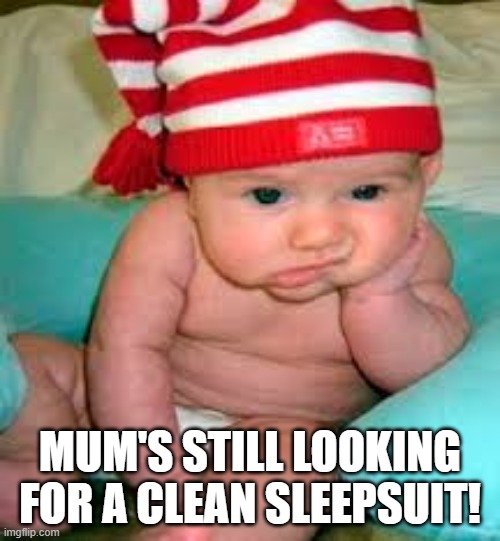 Dad is so looking forward to being a bampie (but has been renamed "Grinch" by his cricket pals), big brother has planned to be the coolest uncle and I've decided I'm going to be nanny…nanny McV (geddit!) and we cannot blinking wait now.
I'll leave it there for now, just wanted to say "hi", share my good news and hopefully make you smile. Remember to look after yourselves and others in these shitty times. Stay safe, stay in, stay pissed if you must and most importantly stay positive.
2021 is going to be sooo much better I promise, even if it is just from me flooding your social media with baby pics! xx